Links Our friendly staff can assist you to meet your glass requirements needed for:
Commercial Residential Apartment
Telephone 1800 755 439

Windows & Doors Choosing your window or door type and material are choices but when it comes to quality - we insist on it. At Glass Service, we not only believe that a window or door must look good, but it must perform. The window must provide the best ventilation and is easy to maintain. More importantly, have the appropriate structural strength, control air filtration to an acceptable level and prevent water penetration to a reasonable level.The door must compliment your home making your property a pleasure for today and an investment for tomorrow.THE LOOK you want is totally up to you. If you aren't sure what to look for, that's where Glass Service will provide you it's second name..."Service". We'll even share some of the practical things you should consider when choosing windows/doors for your home.
Material Aluminium has always been recognised for it's strength, durability and it's easy maintenance. Restoring your window or door to an "as new" condition is as easy as wiping it over with a damp cloth. Now, it's also known for it's Good Looks. We have available, a wide range of different colour aluminium frames for you to choose from. No matter what the colour you desire, we have the colour to suit you.
Types Besides choosing the look and the colour, the type of window is also important to consider. The different types of windows has it's own features and benefits.
Sliding Windows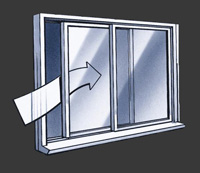 Known for it's performance and reliability, it is practical, simple and good value for money. It offers large glass areas, clean lines and ventilation ... a true Australian favourite. Our windows have long been known for it's durability and superior style. Our 55mm frames provides added strength, our height adjustable latches provides flexibility and the ability to remove the optional flyscreen from inside your home provides convenience and safety. For that extra security measure, you can add a security lock with the convenience of the same key for all windows or a keyed Vent Lock allowing you to lock the window slightly open giving ventilation with peace of mind.
Awning Windows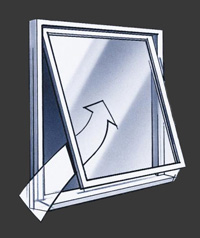 This window complements any home with it's elegance of the uninterrupted glass. They are hinged at the top and comes with a smooth chain operated winder to maintain airflow, regulate ventilation, even during the rainy days. For security, it is also available with the option of keyed lock.
Double Hung Windows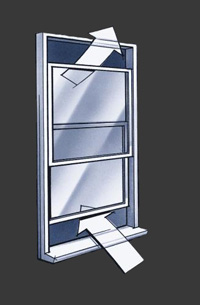 These are perfect for locations with external space restrictions as they do not open outwards and they will compliment any home. They allow for great ventilation, warm air out the top, cool air in below. It offers a smooth and effortless opening while the sash guides and seals make it weather proof and rattle free. It comes with a standard Cam Latch System. Optional locks can be supplied with the convenience of the same key for all windows.
Bay Windows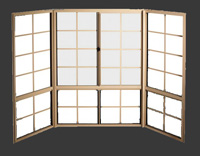 Bay Windows are special for their ability to add space, bring in light and to bring the outdoors in. Have a garden too beautiful to miss out on? Well, bring it inside with a bay window. The bay window is available in your choice of sliding, double hung, or awning windows.